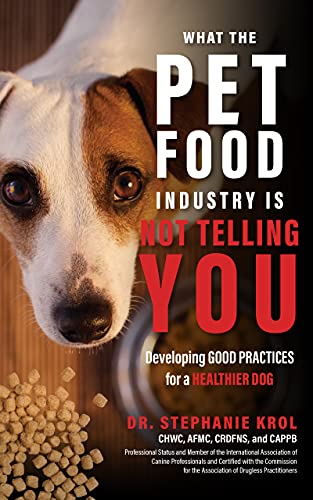 What the Pet Food Industry is Not Telling You, Developing Good Practices for a Healthier Dog
WINNER 2022 LIVING NOW BOOK AWARD Gold Award, Animals - Pets
WINNER 2022 INDEPENDENT PRESS AWARD (IPA) Distinguished Favorite, Animals - Pets
WINNER 2022 INDEPENDENT BOOK PUBLISHERS ASSOCIATION (IBPA) Benjamin Franklin Award - Animal & Pet
NATIONAL & INTERNATIONAL Best Seller Amazon 2021 & 2022

WHAT THE PET FOOD INDUSTRY IS NOT TELLING YOU, DEVELOPING GOOD PRACTICES FOR A HEALTHIER DOG guides you in making the very best decisions for your dog and helps to stop the unnecessary toxicity and pain of dogs around the world!

What the Pet Food Industry is Not Telling You, was written out of the mad love Dr. Stephanie Krol has for her dogs, past and present as well as the pain and trauma felt when faced with a serious situation relevant to her current dog's health as she navigated the traditional medical system trying to make the right choice. Each chapter is a: "thank you" to all those who helped her make the best decisions for her dog, as well as a: "pay it forward," from what she has learned throughout the process. Her book also provides the reader with diet options.

Dr. Krol's goal is to share the knowledge gained in the healing of her dog, in the hope it will spare the pain of all dogs (and cats) around the world! This book will help you glean information needed to help your dog live the longest, happiest life possible.

Dr. Stephanie Krol's favorite title isn't Doctor, past Dean of Schools in Higher Education for For-profit Allied Health Schools, or current co-owner of a Real Estate School. Her favorite title is simple—dog owner. She will be the first to tell you her proudest accomplishment was saving her dog's life, despite getting contradictory advice from top vets. Her "boy" is now living a vibrant and happy life filled with energy, love, and vitality. She teaches dog owners how to optimize their dog's health by implementing a unique nutrition plan, which is based on science and common sense.